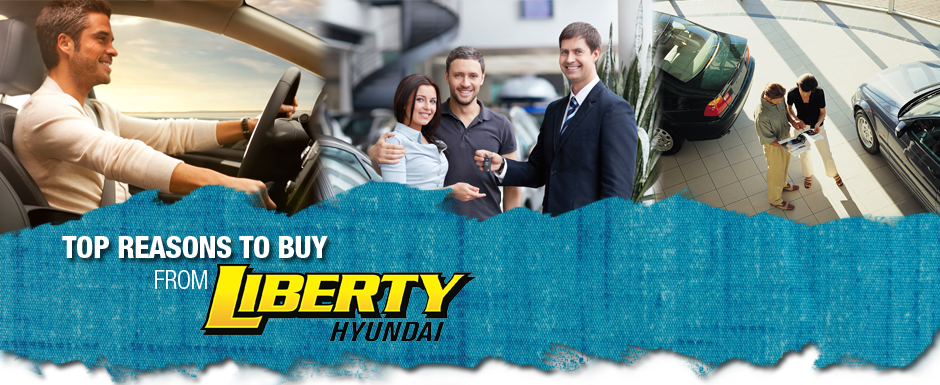 Why Buy from Liberty Hyundai?
Family-owned and operated, we provide a low pressure atmosphere, the answer to all your questions, and straightforward car buying and ownership processes. We strive to lessen the burden of finding and caring for a new commuter with our reliable inventories and award-winning services. As an exclusive Hyundai dealership serving Bergen County, NJ since 2003, we stand by the brand we represent. 
All of our dependable showrooms are run by committed associates who use their years of experience to get you outfitted with a ride designed to suit your needs. With decades of experience, our sales associates can answer all questions, make suggestions and get you fitted for as many test drives as you see fit; and to prove their commitment to you even further, you are granted competitive and straightforward prices. What you see is what you get; there are no gimmicks or hidden fees.
And because we don't want you to worry about basic car care, we offer a number of unique dealership benefits and amenities. Our facility holds free loaner cars when necessary, provides evening service hours, and our state-of-the-art Hyundai Service Center; all of which helps keep you on the road without reservations.
At Liberty Hyundai, we have the pleasure of serving the greater Mahwah, Paramus, Wayne, Ramsey, and Rockland and Orange County, NY region with our promising dealership experience. The next time you are in the market for a new car or are looking to work on the one you have join us here in our welcoming home. Our associates are waiting to help get you about your day-to-day routine without worry today.
Top 10 Reasons To Buy & Service At Liberty Hyundai
Why purchase and service your new or Certified Pre-Owned Subaru from the people at Liberty Hyundai?  Read on and find out!

Top Ten reasons to buy and service your new or Certified Pre Owned Hyundai from Liberty Hyundai in Mahwah, NJ:

10.)    Hyundai is all we do.  We've been an exclusive Hyundai dealership serving Bergen County, NJ since 2003.  That means anyone you speak with at Liberty Hyundai is a Hyundai Specialist!  We're minutes from Ramsey, Wayne, and Paramus, NJ, and convenient to Rockland County and Orange County, NY. Come view our selection of new and used cars for sale in Mahwah. 

9.)    We're "Family Owned & Operated"   When Rick Sr, Rick Jr, and Mike DeSilva opened Liberty Hyundai in 2003, they wanted to ensure the dealership was a good corporate citizen as they all have ties to the Mahwah community going back over 40 years.  That is why you will always find one of them accessible for any personal attention or just to say hello!
8.)    Experience.  We've been serving northern New Jersey Hyundai owners since 2003.  Our Hyundai Management team has a combined experience of over 70 years.  Need we say more?

7.)    We'll deliver your new Hyundai to you.  Think you're too far away to buy from us?  With our exclusive "Hyundai White Glove Delivery Service", we will deliver your new or Certified Pre-Owned Hyundai right to your door on our own flatbed truck.  
6.)    Price.  Our motto is "The only deals we can't beat are the ones we don't see"!  Shop us last...bring us your best deal and see how we do!

5.)    Customer Satisfaction.  Our Customer Satisfaction Index scores are consistently higher than our local competition.  That's why the majority of our business is repeat & referral...our customers love us!  Whether you're buying a new or CPO Hyundai, or need Hyundai service or Hyundai parts, you can be sure that you'll be treated right.

4.)    We don't play games.  At Liberty Hyundai, we don't tack on phony charges.  Some of our competitors add on charges for things like "Dealer Prep", collect DMV charges up front (which, by the way, can be illegal), or charge extra for the use of service loaner cars.  Why would they do such a thing?  So they can sell the car for an artificially low price, then make up the difference with these phony fees and add-ons (it's sad, but true....)!  If anyone tells you that you'd have to pay these phony add-ons wherever you go...DON'T BELIEVE THEM!  At Liberty Hyundai, the price we quote you is the price you're getting!

3.)    Courtesy.  Our Hyundai sales team is made up of professionals with an average experience of over eight years.  Their pay is not based on how much you pay for your car, but rather how satisfied you are with your experience.  That's one more reason our customers are confident that when they refer their friends & family, they'll be treated right.

2.)    Commitment.  Liberty Hyundai is a proud supporter of our local schools, youth sports programs, police and fire departments and many local hometown charities.  

1.)    Benefits.  Our commitment to your satisfaction doesn't end when you leave in your new (or new to you) Hyundai.  We offer our customers amenities such as current model year loaner cars when you necessary, evening service hours during the week (until 8 pm every Tuesday!), and our exclusive Hyundai Express Service, which offers our customers the price and convenience of a "Quick Lube" facility for maintenance, with the quality of Genuine Hyundai parts & workmanship by Hyundai Specialists.

Still not convinced?  Come in and meet our staff...see for yourself what it means to be part of the Liberty Hyundai family!
If you don't see what you are looking for, click on CarFinder, fill out the form, and we will let you know when vehicles arrive that match your search! Or if you would rather discuss your options with our friendly sales staff, click on Directions for interactive driving directions and other contact information. We look forward to serving you!
Hours
Monday

9:00 AM - 8:00 PM

Tuesday

9:00 AM - 8:00 PM

Wednesday

9:00 AM - 8:00 PM

Thursday

9:00 AM - 8:00 PM

Friday

9:00 AM - 8:00 PM

Saturday

9:00 AM - 6:00 PM

Sunday

Closed
See All Department Hours
Dealership Hours
Monday

9:00 AM - 8:00 PM

Tuesday

9:00 AM - 8:00 PM

Wednesday

9:00 AM - 8:00 PM

Thursday

9:00 AM - 8:00 PM

Friday

9:00 AM - 8:00 PM

Saturday

9:00 AM - 6:00 PM

Sunday

Closed
Parts Dept. Hours
Monday

7:30 AM - 6:00 PM

Tuesday

7:30 AM - 6:00 PM

Wednesday

7:30 AM - 6:00 PM

Thursday

7:30 AM - 6:00 PM

Friday

7:30 AM - 6:00 PM

Saturday

7:30 AM - 3:00 PM

Sunday

Closed
Service Dept. Hours
Monday

7:30 AM - 6:00 PM

Tuesday

7:30 AM - 6:00 PM

Wednesday

7:30 AM - 6:00 PM

Thursday

7:30 AM - 6:00 PM

Friday

7:30 AM - 6:00 PM

Saturday

7:30 AM - 3:00 PM

Sunday

Closed